There are no available Upcoming Courses. You can enquire using the button below
Delivery:
The assessment of this online refresher course involves a series of quizzes with a set of questions. On completion of the course, a Refresher Statement of Completion is completed that supports practice within Civil Construction and Mining for up to the coming 2 years.
You will have 30 days from registration in the course to complete the refresher. On completion, you will be emailed further instructions on how to send back a copy of your original Statement of Attainment dated after 2015. We DO NOT accept wallet cards or Statements of Attainment dated prior to 2015.
---
Locations:
---
Accreditation:
Refresher training regimes are to be based around the individual's role and responsibilities as defined by the sites safety and health management system.
RIIWHS202E Enter and work in confined spaces AND/OR MSMPER205 Enter confined space
As a minimum, personnel need to be refreshed in their knowledge of:
Obtain appropriate entry permit and instructions for performing work in confined space
Interpreting and applying safe work method statements
Apply tagging and lock out
Selecting, wearing and caring for personal protective equipment applicable to all tasks and environment identified
Entering the confined space
Using atmospheric monitoring devices prior to entering the confined space
Working in the confined space
Using atmospheric monitoring devices during confined space activity
Applying safe materials handling methods
Exiting the confined space
Remove tagging and lock out
---
Course Requirements:
Be at least 15 years of age;
Have completed Year 10 in the Australian school system or equivalent; and
Have language, literacy and numeracy skills equivalent to ACSF Level 2.
As a refresher, the individual who completes this course already holds a Statement of Attainment for RIIWHS202D Enter and work in confined spaces AND/OR MSMPER205 Enter confined space. This does not have an expiry date, however (Enter and Work in Confined Spaces Association) and industry standards recommend retraining every two years.
Refresher training is advised every two years due to changes in Australian Standards & Industry Standards. Changes in WHS legislation, Regulations and Codes of Practice are an important factor for individuals to ensure they remain current.
Authorised personal should view both the individual's original Statement of Attainment for these units in addition to this Statement of Completion confirming induction currency has been maintained via completion of the refresher course.
Before you start please have the following ready. You will only need these if your Site or Employer require a Statement of Attainment instead of Statement of Completion.
USI – Unique Student Identifier
A clear scanned copy of your current drivers licence (both sides)
A copy of your current Statement of Attainment. We will not accept Statements of Attainment dated prior to 2015. If you do not have access to your Statement of Attainment, you can log into your USI student portal and download a VET Transcript http://www.usi.gov.au
---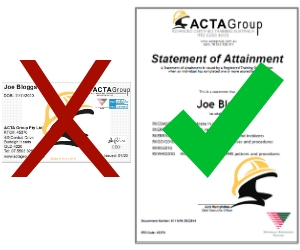 Next Steps
Thank you again for your interest in this course program. Please contact ACTA Group's Participant Support team on 1300 011 144 or info@actagroup.com.au to commence the application process.
ENROLL & START ONLINE REFRESHER COURSE  NOW learn.actagroup.com.au/