Delivery
This assessment is this online refresher course involves a series of quizzes with a set of questions.
You will have 30 days from registration in the course to complete the refresher. On completion you will be emailed further instructions on how to send back a copy of your original Statement of Attainment. We DO NOT accept wallet cards.
---
Locations
---
Accreditation
Refresher training regimes are to be based around the individual's role and responsibilities as defined by the sites safety and health management system.
RIIWHS201E Work safely and follow WHS policies and procedures
RIICOM201E Communicate in the workplace
RIIRIS201E Conduct local risk control
RIIGOV201E Comply with site work processes/procedures
RIIERR302E Respond to local emergencies and incidents
RIIERR205D Apply initial first aid
As a minimum, personnel need to be refreshed in their knowledge of:
Safe operation of machinery they are required to use;
Emergency escape from their places of work;
Their role in identifying and responding to hazards in their work area; and
Their role in actioning any part of the mine safety management system that has been allocated to them or persons conducting their role/position description.
---
Course Requirements
Be at least 15 years of age;
Have completed Year 10 in the Australian school system or equivalent; and
Have language, literacy and numeracy skills equivalent to ACSF Level 2.
As a refresher, the individual who completed this course already holds a Statement of Attainment for these six (6) Units of Competency. Industry sites wishing to confirm currency for Coal Mining Safety and Health Regulation 2001 (Qld) requirements should view both the individual's original Statement of Attainment for these units in addition to this Statement of Completion confirming induction currency has been maintained via completion of the refresher course.
Before you start, please have the following ready. You will only need these if your site requires a Statement of Attainment instead of Statement of Completion.
USI – Unique Student Identifier
A clear scanned copy of your current drivers licence (both sides)
A copy of your current Statement of Attainment with all six units no older than 5 years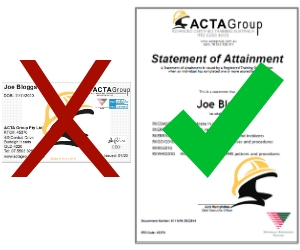 We cannot except cards as evidence, you must provide your Statement of attainment  listing all units
This Course
This online refresher course is therefore designed as a refresher for experienced miners, with a focus on how to work safely in a mining environment in the Queensland mining industry. As all participants already hold a Statement of Attainment for these six units of competency as part of their original Standard 11 Induction training, these are not issued again by ACTA Group.
The assessment in this online refresher course involves a series of quizzes with set questions. On completion of the course, a Refresher Statement of Completion is issued that supports practice for the next five years.
Next Steps
Thank you again for your interest in this course program. Please contact ACTA Group's Participant Support team on 1300 011 144 or info@actagroup.com.au to commence the application process.
ENROLL & START ONLINE REFRESHER COURSE  NOW learn.actagroup.com.au/
Please refer to ACTA Group's Schedule of Tuition Fees for further in information and to determine the course fees for your course engagement:
Course Name
Standard 11 – Online Refresher

Course Duration
30 day access to complete online course
Course Schedule
 Daily / Weekly / Monthly
Course Times
24/7
Fees

| | | | | | |
| --- | --- | --- | --- | --- | --- |
| Course Code, Name, Release & Currency | Delivery Location(s) | Delivery Mode(s) | Nominal Hours | Fee for Service Fees | RPL Fee |
| Standard 11 – Online Refresher | Online | Online | 0 | $350 | |

Location
4/19 Central Drive, Burleigh Heads Gold Coast QLD 4220
Employment pathways for this course include:
Mobile Plant Operator
Hazard identification
Risk control
Isolating and tagging
Communication
Manual handling
Use and control of hazardous substances